PAT Testing Frequency
Find out about PAT testing frequencies and how often you should PAT test here
---
Understanding & implementing PAT Testing Frequencies
There are many questions raised when implementing a PAT Testing programme or advising potential clients on 'How often should PAT Testing be carried out?'
Its important to note that although there is no formal legislation stating 'Thou shall do PAT Testing' there are legal obligations to ensure equipment in the workplace is fit for purpose & safe to use & they best way to achieve this is with a preventative maintenance programme.
There is a perception that PAT Testing should be carried out on an annual basis although this is not always the case & the frequency of PAT Testing should be based on a Risk Assessment approach. Regular visual inspections by both the user & formal visual inspections carried out by a competent person would dramatically reduce the risk of an electrical appliance as visual inspections cater over 90% of appliance failures.
---
The Legal Obligations
Electricity at Work Act (1989)
4 (2) As may be necessary to prevent danger, all systems shall be maintained so as to prevent, so far as is reasonably practicable, such danger.
4 (3) Every work activity, including operation, use and maintenance of a system and work near a system, shall be carried out in such a manner as not to give rise, so far as is reasonably practicable, to danger.
4 (4) Any equipment provided under these Regulations for the purpose of protecting persons at work on or near electrical equipment shall be suitable for the use for which it is provided, be maintained in a condition suitable for that use, and be properly used.
The Management of Health and Safety at Work Regulations 1999
Every employer shall make suitable assessment of the risks to health and safety of his employees to which they are exposed whilst at work and the risk to the health and safety of persons not in his employment arising of or in connection with the conduct by him of his undertaking.
---
Existing Guidance & Codes of Practice
HSE Guidance Note HS (G) 107
The current IET Code of Practice is the 'IET Code of Practice for in-service inspection & testing' 5th Edition.
---
Determining the frequency of PAT Testing
There are a number of things that need to be considered when determining the frequency of PAT Testing. It basically comes down to the higher the risk the more frequent inspection & testing should be carried out. It is down to the 'Duty Holder' to assess the electrical appliances within their control & in conclusion implement a preventative maintenance programme for in-service inspection & testing. To do this they would need to consider the following:
Equipment Type (portable, hand held or transportable)
Equipment Class (Class I or Class II)
Equipment use (continuous, infrequent, rough)
How long equipment has been in service (Age)
If equipment is moved around & how frequent
Competence of personnel using the equipment
Where equipment is used (outdoors, construction sites, hazardous atmospheres etc).
Previous test results
Manufacturers guidelines & recommendations
Equipment modifications or repairs
---
Demonstrating Compliance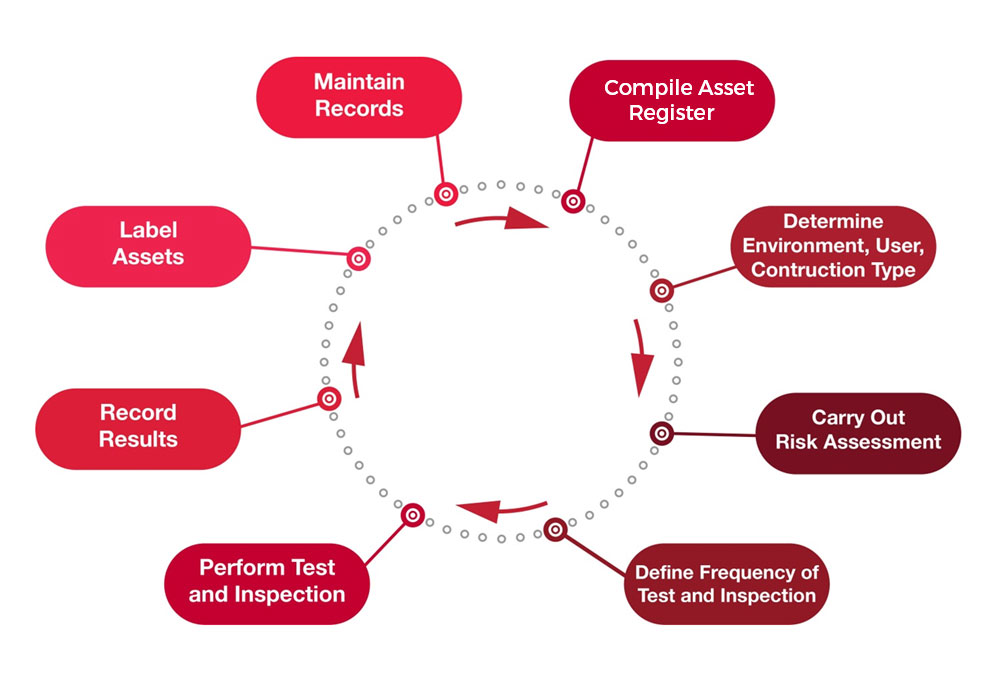 If you are unable to find the answer to a PAT testing frequency question, please use the contact form to get in touch and we will be more than happy to help you.