PAT Testing Frequency
Find out about PAT testing frequencies and how often you should PAT test here
---
Understanding & implementing PAT Testing Frequencies
There are many questions raised when implementing a PAT Testing programme or advising potential clients on 'How often should PAT Testing be carried out?'
Its important to note that although there is no formal legislation stating 'Thou shall do PAT Testing' there are legal obligations to ensure equipment in the workplace is fit for purpose & safe to use & they best way to achieve this is with a preventative maintenance programme.
There is a perception that PAT Testing should be carried out on an annual basis although this is not always the case & the frequency of PAT Testing should be based on a Risk Assessment approach. Regular visual inspections by both the user & formal visual inspections carried out by a competent person would dramatically reduce the risk of an electrical appliance as visual inspections cater over 90% of appliance failures.
---
The Legal Obligations
Electricity at Work Act (1989)
4 (2) As may be necessary to prevent danger, all systems shall be maintained so as to prevent, so far as is reasonably practicable, such danger.
4 (3) Every work activity, including operation, use and maintenance of a system and work near a system, shall be carried out in such a manner as not to give rise, so far as is reasonably practicable, to danger.
4 (4) Any equipment provided under these Regulations for the purpose of protecting persons at work on or near electrical equipment shall be suitable for the use for which it is provided, be maintained in a condition suitable for that use, and be properly used.
The Management of Health and Safety at Work Regulations 1999
Every employer shall make suitable assessment of the risks to health and safety of his employees to which they are exposed whilst at work and the risk to the health and safety of persons not in his employment arising of or in connection with the conduct by him of his undertaking.
---
Existing Guidance & Codes of Practice
HSE Guidance Note HS (G) 107 and IEE Code of practice were introduced in 1994.
HSE Guidance Notes are published alongside IEE (now IET) updated Codes of Practice.
The current IET Code of Practice is the 'IET Code of Practice for in-service inspection & test' 4th Edition.
---
Determining the frequency of PAT Testing
There are a number of things that need to be considered when determining the frequency of PAT Testing. It basically comes down to the higher the risk the more frequent inspection & testing should be carried out. It is down to the 'Duty Holder' to assess the electrical appliances within their control & in conclusion implement a preventative maintenance programme for in-service inspection & testing. To do this they would need to consider the following:
Equipment Type (portable, hand held or transportable)
Equipment Class (Class I or Class II)
Equipment use (continuous, infrequent, rough)
How long equipment has been in service (Age)
If equipment is moved around & how frequent
Competence of personnel using the equipment
Where equipment is used (outdoors, construction sites, hazardous atmospheres etc).
Previous test results
Manufacturers guidelines & recommendations
Equipment modifications or repairs
---
PAT Testing Frequency Table
Below is a table offering guidance on how often PAT Testing should be carried out based on the criteria covered with a Risk Assessment approach. It is very common for PAT Testing frequencies to be the carried out at the longest suggested frequency, but these frequencies are suggested on the basis that both User Inspections & Formal Visual Inspections take place as well as combined inspection & test.
Type of business
User checks
Formal visual inspection
Combined inspection and test
Equipment hire
N/A
Before issue/after return
Before issue
Battery operated equipment (less than 40 V)
No
No
Extra low voltage (less than 50 V ac), telephone equipment, low-voltage desk lights
No
No
No

Construction

110V equipment
Yes, weekly
Yes, monthly
Yes, before first use on site
then 3-monthly
230V equipment
Yes, daily/every shift
Yes, weekly
Yes, before first use on site then monthly
Fixed RCDs
Yes, daily/every shift
Yes, weekly
Yes, before first use on site then 3-monthly (portable RCDs monthly)
Equipment site offices
Yes, monthly
Yes, 6 monthly
Yes, before first use on site then yearly
Heavy industrial/high risk of equipment damage (not construction)
No
Yes, 2-4 year
No if double insulated, otherwise up to 5 years
Light industrial
Yes
Yes, before initial use then 6-monthly
Yes, 6-12 months
Office information technology rarely moved, eg desktop computers, photocopiers, fax machines
No
Yes, 2-4 year
No if double insulated, otherwise up to 5 years
Double insulated (Class II) equipment moved occasionally (not hand-held), eg fans, table lamps
No
2-4 years
No
Hand-held, double insulated (Class II) equipment, eg some floor cleaners, some kitchen equipment
Yes
Yes, 6 months - 1 year
No
Earthed (Class I) equipment, eg electric kettles, some floor cleaners
Yes
Yes, 6 months - 1 year
Yes, 1-2 years
Cables, leads and plugs connected to Class I equipment, extension leads and battery charging equipment
Yes
Yes, 6 months - 4 years depending on type of equipment it is connected to
Yes, 1 - 5 years depending on the equipment it is connected to
Note: Cables, leads and plugs connected to Class II equipment should be maintained as part of that equipment. Cables leads and plugs not dedicated to an item of equipment should be maintained as individual items as appropriate. Over time, when you look at the results of user checks, formal visual inspections and portable appliance tests you will notice trends. These may tell you that you need to look at or test electrical equipment more or less often, depending on the number of problems being found. If electrical equipment is grouped together for testing at the same time, you should use the shortest testing interval in the group rather than the longest.
Alternatively, it may be appropriate to group your electrical equipment by testing interval. The IET Code of Practice has a similar table but with the information presented in a slightly different manner. In some instances with more detail and specifics, however, the two sets of information are considered to be consistent with each other.
User inspections can be carried out by any member of staff but are non-intrusive & would not be expected to start opening up plug tops or casing for a full visual inspection. These do not need to be logged but there should be a process in place that they can follow to log any faulty equipment found. It is recommended that staff are put through basic 'User Visual Inspection Training'.

Formal Visual Inspection & combined Inspection & Test should be carried out by the competent person.

Environment - Please note that it's very likely different areas in your place of work will fall under the different environments listed in the above table & not all under 1 environment. As an example in a College, IT Equipment Class I (used by students) would come under Schools & require 12 month combined inspection & test whereas IT Equipment (not used by students) could come under the office environment & therefor requires 60 month combined inspection & test.
S = Stationary. A piece of equipment or appliance that has a mass exceeding 18kg in weight & does not provide a carrying handle.
IT = Information Technology equipment includes computers, mains powered telecommunications equipment & other equipment used in general business use.
Movable = Equipment 18kg or less & is not fixed.
Portable = An item less than 18kg & is intended to be used whilst in operation or an item that can be easily moved from 1 place to another.
H= Hand-held. An item that is held in the hand during normal use.
F – Fixed. Equipment that is fastened to a support or otherwise secured in a specific location. It also includes equipment connected to the fixed installation via a Fused Connection Unit (FCU).
NOTE
The formal visual inspection may form part of the combined inspection and tests when they coincide and must be recorded.
If class of equipment is not known, it must be tested as Class I
The results of formal visual inspections & combined inspection and test are recorded
For some equipment such as children's rides a daily check may be necessary
(+) By supervisor/teacher/member of staff
# 110V earthed centre tapped supply 230V portable or handheld equipment must be supplied via a 30 mA r.c.d. and the intervals between inspections and tests reduced
Demonstrating Compliance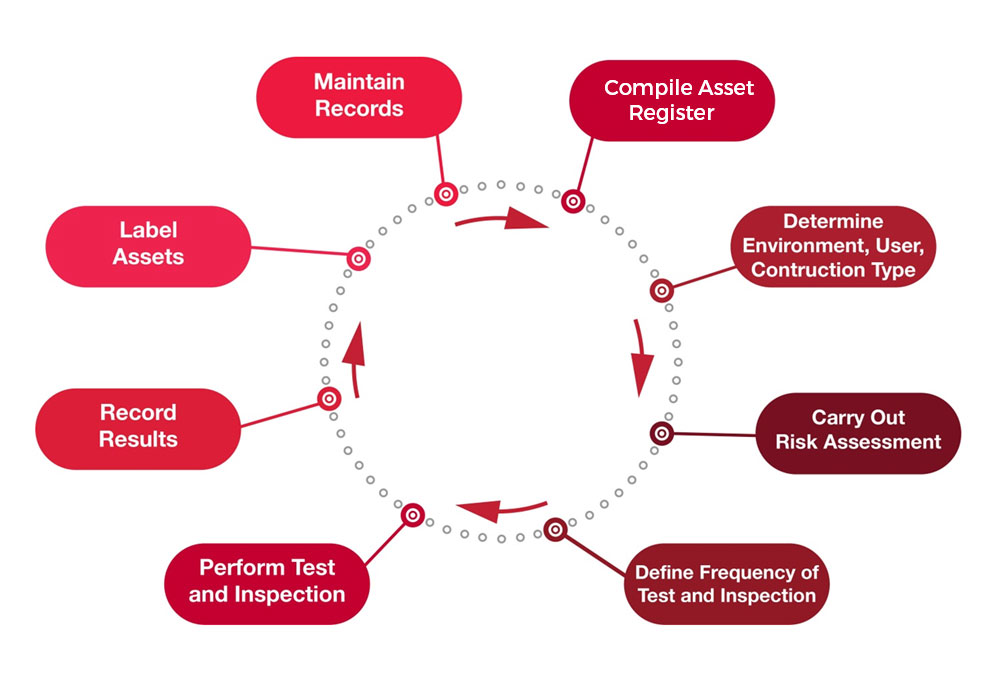 If you are unable to find the answer to a PAT testing frequency question, please use the contact form to get in touch and we will be more than happy to help you.