Once your PATGuard 3 licence period has ended the program will become read only. This means that you can still view your data but you cannot perform any functions or add new data.
In order to reactivate the software you will need to renew your licence. You can do this online by clicking on the link in the software. However, if you are having issues renewing your PATGuard 3 licence or you have purchased a licence card from your distributor then please follow the below process.
Deactivate your expired licence
1. Open up PATGuard 3 on your PC and in the login screen select 'Deactivate Licence from this PC…'.
2. Select 'Deactivate now'.
3. You will require an internet connection to complete the deactivation. Click 'Next' to continue the process.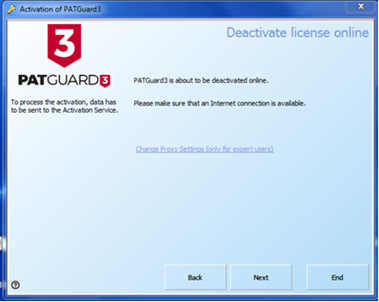 4. Once you have successfully deactivated the licence you will see the below message. Click 'End' to complete the process.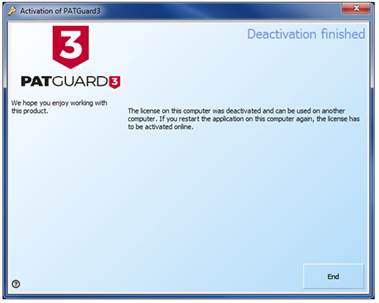 Activate your new serial number
5. You will now be taken back to the PATGuard 3 login screen. In this screen select 'Activate New Serial Number'.
6. You will be advised that a valid serial number is required to complete the action. If you have already purchased a new serial number from your distributor or online or are wishing to purchase your new serial number online then press OK. If you are yet to purchase a new serial number from your distributor then you will require this before you go any further. Press cancel, purchase your serial number and then repeat this process from step 5.

7. Do you already have a valid PATGuard 3 serial number?
YES – In the screen below select 'I have a Serial Number and I want to activate PATGuard 3' and follow through the activation process.
Note: For additional help see: 0049-How do I activate PATGuard 3?
No – In the screen below select 'Buy a Serial Number'. You will then be taken to the Seaward website where you can purchase a new serial number. Once you receive it you can repeat from step 5.