Please Note: Updated Jan 2023
Prior to updating the firmware on your tester please check your current version and follow the guidance below.
If you are looking to copy your settings, including Test Sequences, Users, etc, to a new tester, then a firmware update is not required, please follow details for cloning a tester within our Technical Support pages.
Checking Version Number
To check the firmware version on your Apollo Series, select Information 

(F5), from the Home Screen

.
In the bottom right hand portion of the screen the Apollo will display a version number, make a note of this, and follow instructions relevant to your number.
Version 5.X.X
If your version is 5.X.X then please DO NOT attempt to update the firmware to any previous version 4.X.X. The firmware in this unit is upto date, just released, and not backwards compatible.
For Apollo 600+ - The latest revision number is 5.0.26
For Apollo 500+ - The latest revision number is 5.0.28
Version 4.X.X or below
If your current version is 4.X.X of lower then instructions below can be followed to update your version
Firmware Update procedure V4.X.X or below 
To check / download the latest version of firmware (4.1.7) visit the following: www.seaward.com/apollo-500-plus-firmware
Make sure you backup (download) any data on your instrument beforehand. You may want to also clone (download) your settings data (Apollo 500+ and 600+) so that you can upload these afterwards.
Make sure the Apollo+ Series is switched off. Press and hold the function key

, then press the ON button

to power on the Apollo+ Series, keeping the

key depressed until the updater screen is displayed.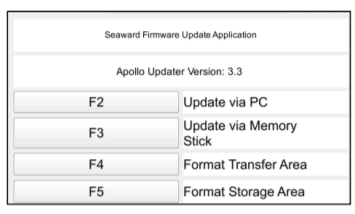 Press F2 to Update via PC (Apollo+ Series). Connect the USB lead between the PC and the Apollo+ Series and press F1, as instructed.
Copy the downloaded firmware file (with extension .tar.bz2) to the new Apollo+ Series drive on your PC (for example, Apollo (E:))
Press F1 to begin the firmware update - when the update is complete the display will show "Update complete, restart the system or press F1 to return to the main menu."
Press and hold the OFF button 

until the Apollo+ Series powers off. The firmware update, via the PC, is now complete and the Apollo+ Series is ready to use.