The world's largest manufacturer of North American and European-style fuses is using the Cropico DO5000 microhmmeter to test the functionality of its products during the manufacturing process.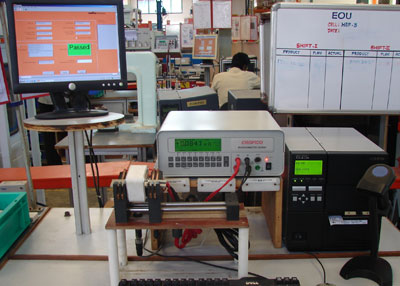 Cooper Bussmann, a wholly owned division of US-based Cooper Industries Inc, manufactures fuses at several sites around the world for the electrical, electronics and transportation industries.
The company has specified the DO5000 for various manufacturing sites including operations in Eastern Europe and Asia where it is being used to test the electrical resistance values of the fuses during production.
This enables Cooper Bussman to check the fuses are working properly, functioning within pre-defined +/- parameters.
The DO5000 was chosen to replace the previous testers because according to industrial engineering manager Dave Laxton it is a superior product offering greater functionality.
He said: "Not only is the DO5000 the most cost effective solution for us but also the best, with functionality greater in terms of output.
"It's fulfilled all expectations and has impressed with its performance in the demanding production environment."
Designed to handle all testing applications with a single highly flexible meter, it measures from 0.1µΩ to 30,000Ω in eight ranges with manual or automatic selection and ±0.03% accuracy. Automatic temperature compensation with 20°C referencing or other user-defined settings increases true measurement accuracy.
Higher accuracies over a wider measuring range on the DO5000 microhmmeter are combined with greater functionality than other instrument models and programmable current setting in 1% steps from 10% to 100% with 10A maximum.
Measurement speed settings of 50, 25 or 2.5 per second allow selection of high speed with full accuracy for production line testing usually with an interface, medium mode also for fast production testing but where the DUT needs a bit more time to settle or slow speed for manual operation where display clarity is a priority.
Component sorting is simplified by programmable Hi/Lo limits and built-in algorithms ensure stable readings for measuring inductive circuits such as windings.
The standard unit also has RS232 and data logging function, storing up to 4000 readings with date and time stamp and statistical analysis. Interfaces can be added for remote control and integration into automated test systems.