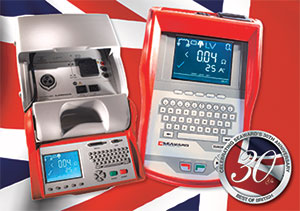 Seaward has extended its Best of British 30th anniversary PAT celebration by linking two of its downloading testers with a host of free accessories in a special limited edition promotion.
For a limited period only, the Seaward PAT Celebration will giveaway free PAT accessories alongside all Europa Plus and Supernova Elite PAT testers sold.
To help maximise the comprehensive range of PAT test features included in the Europa Plus, the special celebration kit includes a tester and 110V adaptor with a free Test 'n' Tag printer and copy of the PATGuard Lite Software program. This will enable results from the tester to be downloaded to a PC for traceability and report generation, with the printer allowing asset ID labels to be printed quickly and easily.
The same combination of accessories is also provided free of charge with the celebration bundle for the Supernova Elite, a multi function PAT that includes RCD trip time and flash testing capabilities, as well as a dual voltage capability.
Both kits represent a tremendous value for money offer with considerable savings. Both Seaward testers are market leading products that are proven for rugged and reliable use in demanding, high volume PAT programmes.
Established in 1982, Seaward has become a global market leader in portable appliance testing with the introduction of a series of innovative instruments and electrical safety testing technology.
Central to this concept has been the introduction of PATs and accessories that succeed in making testing easier and faster without compromising the quality of testing.
The special PAT Celebration is intended to reinforce this message and underline the company's 30 year commitment to UK manufacturing and the highest standards of quality and performance.