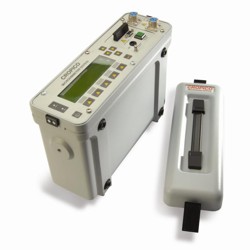 The versatile Cropico DO7010 portable digital microhmmeter from Seaward has been upgraded with additional memory storage capability and extra battery capacity.
The DO7010 has been moved to the next generation to provide highly accurate four point measurement and now following the upgrade enables users to operate the instrument for longer working periods between recharging.
Improved battery capacity gives between 50% and 100% additional testing time while the memory is extended by the size of the USB stick in use.
The data logging capability of the DO7010 allows measurements to be recorded remotely and either stored in the internal memory or downloaded to a USB memory stick for remote processing and full test data traceability records, increasing productivity levels.
The upgraded DO710 can be used in a wide range of design and manufacturing applications requiring highly accurate low resistance measurement. This includes widespread use in aviation production as well as many electronic component manufacturers and utilities companies.
The incorporation of smart battery technology further extends the operating time of the instrument so that even under the most arduous working conditions, the DO7010 will maintain performance and accuracy of results.
The DO7010 also has an optional remote control pad which allows the instrument to be used in difficult or confined working spaces.
With a measuring range of 600µΩ to 60Ω with 0.1 and 10mΩ resolution respectively, the instrument can measure with switchable current levels of 1A or 10A on all except the highest range. Externally recharged NiMh battery packs can be replaced quickly via the front panel to ensure minimum downtime anywhere.
An LCD panel displays full information on measurement configuration and a single start button ensures ease of use while the ability to trigger measurements by lead contact to the test device provides fast single-person operation. A remote hand terminal is also available to fully control the tester at up to 15m distance.
Other features include a robust design, true 4-terminal measurement to eliminate lead resistance errors, auto average of forward/reverse measurement and sequence testing with memory for 1000 readings.
The instrument's data logging function also permits downloading of test sequences from a spreadsheet and uploading of test results back to the data records. The DO7010 forms part of a comprehensive range of precision measurement instruments available from Cropico, part of the Seaward Group.
Please visit the Cropico DO7010 portable digital microhmmeter product page for more information.