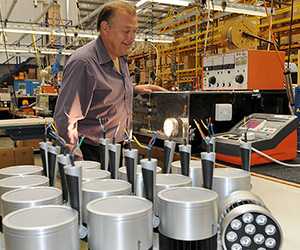 One of the UK's leading manufacturers of commercial lighting is now using the Clare Safetest Manufacturing electrical safety tester from Seaward to improve the testing of its luminaires during production at its Castle Donington factory.
Illuma manufactures advanced lighting products used to brighten the stores of major high street retailers such as Selfridges, Liberty's and House of Fraser. All products are rigorously tested in accordance with annex Q of the Luminaire Standard (BS EN 60958) as part of the company's quality assured five year guarantee.
Now, in a move to further secure product quality, performance and reliability, Illuma has installed the Safetest units on several of its manufacturing lines, which produce thousands of luminaires per week.
The Safetest performs 500V insulation tests using a DC test voltage which can be used instead of a flash test when required.
This is enabling Illuma to undertake fast and accurate DC testing to ensure its luminaires are safe to use after leaving the factory and avoid the risk of damaging delicate electronic circuitry in line with Illuma's quality assured five year guarantee.
The Safetests, which are replacing older analogue equipment at Illuma, are fast and efficient automatic digital products which record test results and ensure accurate testing is carried out in line with relevant product Standards at all times.
Nick Turnbull-Ross, Illuma's quality and technical manager, said: "Seaward is a market leader and its products are reliable and of a high quality.
"We needed a comprehensive and robust tester which was well supported. The Safetest offers all this and, despite it being early days, is already proving its worth on the production line."
All Illuma's test requirements can be pre-programmed into the easy-to-use Safetest using a QWERTY keypad and following the screen user instructions. All tests are individually user selectable and an internal memory has the capacity to store the results of 6,000 tests.
The instrument has been designed to meet the needs of manufacturers that require a range of safety tests to be carried out on a variety of electrical and electronic products.
Want to find out more? Simply fill out the below form and we´ll send you a datasheet.