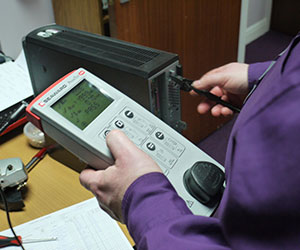 Investment in new test instrumentation is helping one of the UK's leading providers of portable appliance testing services to expand its operations and services to customers.
Hawkesworth Appliance Testing has equipped its entire network of test engineers with new Seaward PrimeTest 250 portable appliance testers as part of an investment strategy to ensure that clients meet their safety testing responsibilities as cost-effectively and efficiently as possible.
Hawkesworth has 110 test engineers carrying out over 11 million pat tests at over 20'000 customer locations and has become the largest independent PAT testing company in the UK and Ireland.
The introduction of Seaward PrimeTest 250s across the company's national electrical safety testing network has now been completed as part of an investment strategy aimed at improving working efficiencies and productivity.
The handheld PrimeTest 250 is a comprehensive PAT tester that includes all of the electrical safety tests required to meet the IEE Code of Practice including RCD trip time, protective conductor current and touch current.
As part of its all round test capability' the unit also includes a 250V DC insulation test for testing sensitive electrical appliances and surge protected leads, and can also be used to test 3 phase industrial plant and equipment with the use of a special adaptor.
The unique range of tests incorporated in this lightweight and highly versatile instrument means that most workplaces appliances can be tested using long life battery power. However the capability of the new tester also extends to powered earth leakage and touch current measurement tests when required.

Ross Maddock' Senior Operations Manager for Hawkesworth' said: "In an ever changing economic climate' investment in new technology is imperative to stay at the forefront of the PAT sector.
"We work closely with clients to help them keep their businesses running safely by carrying out the appropriate tests at the right time and by giving them professional advice on risk management.
"Our responsibility to clients extends to ensuring that the tests are carried out as efficiently as possible – but without any compromise on the validity or integrity of the testing process."
The PrimeTest 250 helps Hawkesworth fulfil this requirement by providing a versatile and lightweight PAT test solution for the wide variety of electrical appliances and equipment used in all commercial and industrial workplaces.