The installation of advanced production line test technology is helping a world-leading manufacturer of range cookers to uphold its global brand values for high performance top quality products.
AGA Rangemaster made the world's first range cooker in 1830 and continues to be the most prestigious and trusted name in kitchen appliances. With the introduction of new product innovations and technical advances, the company has recently introduced new bespoke and integrated 'end of line' electrical test bays at its Telford manufacturing site.
Utilising specialist Seaward HAL 104 multifunction electrical safety testers and comprehensive Safety e-Base software, the new test approach combines ease of use for operators with the versatility to meet the technical test needs of over 30 different AGA and Rayburn cooker types.
All cooker products manufactured at the Telford factory must undergo a combination of electrical safety and functional tests before being approved for despatch to customers. As well as electrical cookers, the range includes gas and oil powered products, each with their own specific features and often complex test needs.
Products ready for testing are moved into the test cells with failsafe interlocks to ensure the safety of the test operative. Once located in the cage, a bar code scanner identifies the serial number and type of product under test so that the required test sequence is automatically identified.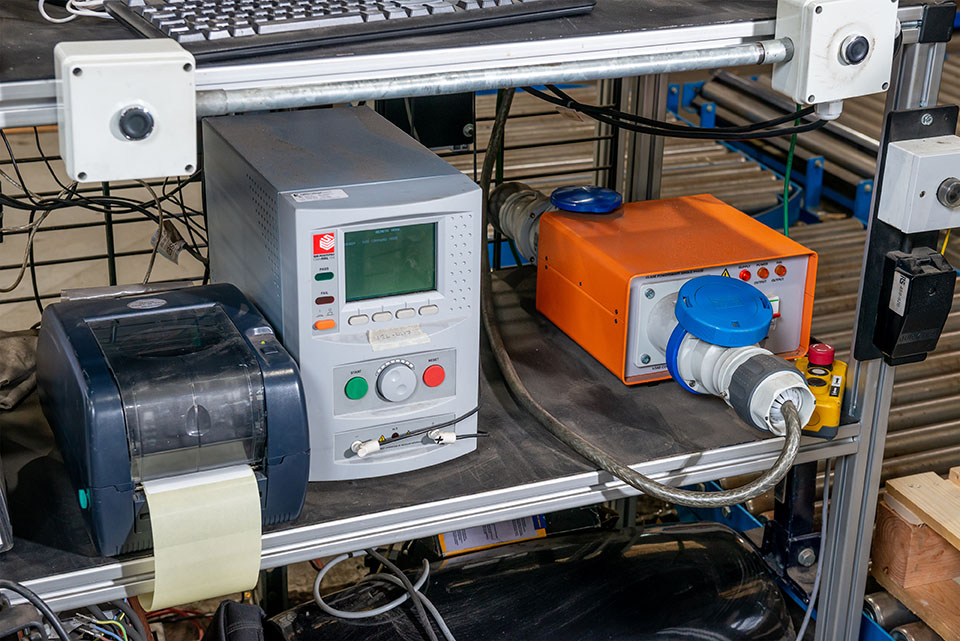 Following on screen instructions throughout, the operator activates the testing and the HAL 104 automatically runs through multiple test sequences according to the type and specification of the cooker. Earth bond tests are carried out on all appliance touch points, followed by hipot and power/leakage tests.
For high power products, the test range and capabilities of the HAL is extended by the use of a specialist Powersmart unit.
Any failures at any stage in the test process cause the process to be automatically aborted, enabling the specific fault to be identified and rectified before the product is re-tested. Only those products that successfully pass all testing then go on to an inspection and photography stage, before being packed for shipment.
All testing of products in the AGA and Rayburn cooker ranges is undertaken to confirm product compliance with EN60335 and the specific test data is stored against individual serial numbers to provide a comprehensive product record in the company's database.
In developing the new integrated and bespoke test process, Seaward's technical support team worked closely with AGA Rangemaster production engineers to ensure that the new system met all the company's needs.
William Fletcher, AGA Rangemaster production engineer, said: "The new approach takes our test capabilities to the next level and not only ensures the electrical safety of all of our products, but also helps us to maintain rigorous product performance and quality control standards.
"The combination of automatic sequencing of testing and step by step on screen instructions has reduced the technical training required by operatives. In addition, when any subsequent product issues have arisen, the database availability of automatically recorded test data results has assisted in satisfying any warranty issues".
"Throughout the installation and commissioning of the new test stations, Seaward's technical guidance, hands on support and troubleshooting has been invaluable in ensuring that we have a system that completely meets our needs and is making a significant contribution to the efficiency and success of the business."
Safety testing specialist Seaward is a longstanding supplier of electrical test equipment to AGA Rangemaster and also has systems installed at the company's Leamington Spa factory.
Lee Warburton, Key Account Manager for Seaward Compliance and Precision Products, said: "The new system combines operator safety, with simplicity of use and total versatility across the AGA and Rayburn product range.
"The safe operation and quality of performance of electrical products is absolutely vital in terms of product conformance and quality assurance, so we are delighted to have worked with such a prestigious company in developing a system that successfully meets their specific needs."
Find out more about Seaward's range of manufacturing and production line hipot testers at seaward.com/manufacturing.