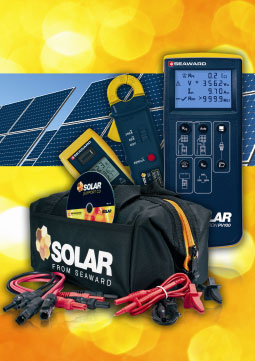 Seaward Solar can draw on over 75 years experience in electrical safety testing technology to ensure that solar PV installers meet all international safety and technical standards.
For all involved with solar PV installation, rigorous testing and reporting is crucial to ensure maximum ROI, optimum conversion of solar energy and important operator safety for the lifetime of the array.
Seaward Solar's unique range of test equipment and accessories meets these needs by providing a total solution for solar PV installation and testing.
New for Ecobuild, Seaward is introducing an all inclusive MCS Test Kit to enable all installers to meet the electrical test requirements of MCS and BS EN 62446 quickly, easily and safely.
Traditionally, PV installers have brought together various test instruments in order to complete the solar system commissioning tests required by MCS.
Now, the new test kit from Seaward makes the choice of system testing equipment much simpler by combining the multi function PV100 electrical tester with the Solar Survey 100 irradiance meter, a clamp meter and supporting accessories.
In addition to the new test kit, Seaward also supplies the Solar Survey 200 irradiance meter, which has the added benefit of a large internal memory and real-time clock for data logging purposes,
Also available is the Solar Power Clamp which enables power measurement and analysis on AC and DC systems for diagnostic checks.
In addition to these instruments, solar PV test documentation and information for client handover packs can be completed quickly by either the Seaward Solar Cert Elements software package or with the special Seaward Solar inspection test report and certificate documentation packs.
Seaward Solar Stand: N2772