New investment in advanced electrical safety testing technology is helping a market leading pump manufacturer to upgrade and automate its production line testing procedures.
The Sunderland-based Salamander Pumps, part of Davidson Holdings and one of the UK's leading manufacturers of shower and domestic water pumps, has introduced new bespoke end-of-line testing facilities to ensure compliance with international product standards as part of enhanced quality assurance controls for its products.
The pump models in the Salamander range incorporate a range of intelligent electronics and as part of the re-shaping of the company's manufacturing operations, new post-assembly testing was required to meet the needs of different types of pumps and the opportunity to incorporate electrical safety testing meant improvements could be made to production efficiencies.
To meet this challenge, the new automated test solution developed by the company incorporates a HAL 104 programmable test unit from Seaward that is designed to provide the full suite of electrical safety tests and data traceability demands of modern high volume production lines.
In the Salamander end-of-line testing application, the HAL 104 is integrated with a customised test jig that incorporates automated test connections, so that when a pump assembly is located into the jig, the use of pre-configured product codes enables earth continuity and insulation tests to be automatically activated, followed by a hipot (flash) test.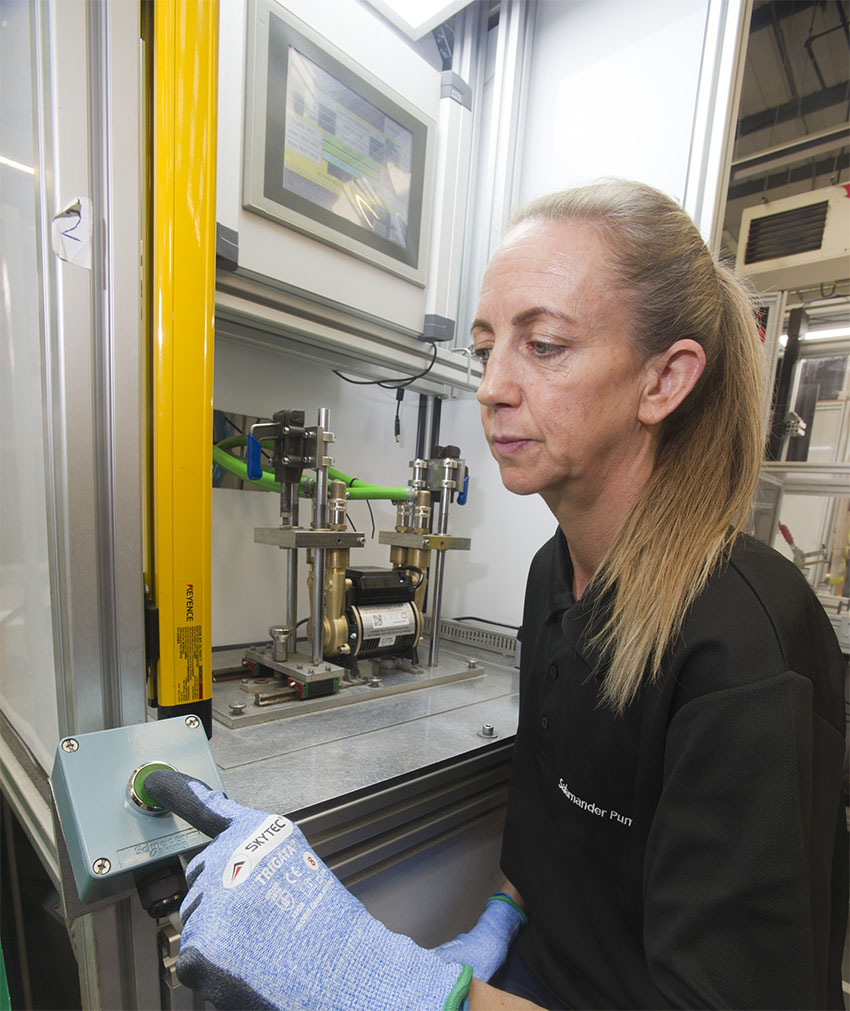 All testing is automatically carried out to the required limits for each specific product type and special safety interlocks are incorporated to protect production operatives. Any product that fails to pass the pre-set test limits is immediately identified and removed from the production line for further inspection.
The automatic electrical testing of all the Salamander product ranges is followed by pneumatic testing of the pumps to verify the integrity of the seals, before a final stage of full functional and performance testing is carried out.
Salamander is a long-standing user of HAL safety testers and the development of the new automated test station has been specially designed to maximise operator efficiency and provide the fast throughput rates associated with the company's increased manufacturing capacity.
Chris Mulligan, Production Support and Improvements Engineer at Salamander, said: "Over the last five years we have completely overhauled our product range and use cutting-edge technologies to make our pumps some of the most reliable on the market.
"As part of this approach, our investment in new and upgraded production line testing based on the HAL technology demonstrates our commitment to the best technology available and to using innovation throughout the business to help us create higher quality products."
The fully configurable automatic test sequences provided by the HAL series of hipot testers, alongside the large internal memory storage of test results, are designed to significantly improve the productivity of end of production line testing.
Anthony Snowdon, Applications Engineers for Seaward Compliance and Precision Products, said: We have worked closely with Salamander for a number of years and helping our customers integrate our products into a huge range of bespoke production lines is a challenge that we are always happy to take on.
"The products that can be tested with our equipment are so varied that a different solution may be developed for each application. Communication and teamwork are the key to success here, whether that be remotely or coming to site in person, and being able to share our experience with the knowledge of the customer means that we can arrive at a solution that makes testing both safe and efficient."
Click here to find out more about the HAL Series and to request your free consultation on your testing requirements with one of our specialists.