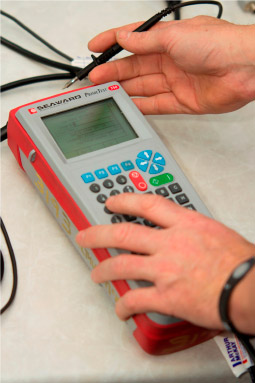 Investment in new electrical test technology has helped one of Scotland's leading building support services companies to improve the working efficiencies of its PAT field services team.
Arthur McKay has recently equipped its portable appliance testing (PAT) team with new Seaward PrimeTest 350 multi-function electrical safety testers as part of company moves to continue to utilise the latest technology available and improve its services to customers.
In doing so the company claims that test times have been significantly reduced, creating improvements in productivity without compromising the integrity of the equipment testing being undertaken.
The lightweight PrimeTest 350 handheld PAT tester incorporates all Class I and Class II required electrical safety tests in a compact design.
In addition, in keeping with the IEE Code of Practice, the PrimeTest 350 is also equipped with an RCD test, a 250V insulation resistance test and an alternative leakage test. It is also equipped with Bluetooth technology for the wireless connection of bar code scanners, label printers and other accessories.
An important factor in Arthur McKay's choice of the PrimeTest 350 was the extended long life battery power of the unit which reduces the reliance on mains supply and substantially cuts the downtime between tests. As a result, engineers can complete testing in large multi-location sites without constantly plugging-in and re-booting the instrument from one test location to the next.
Established in 1958, Arthur McKay provides a range of mechanical and electrical, FM and networks services that includes electrical safety testing and compliance with the Electricity at Work Regulations 1989.
The company's test engineers carry out portable appliance testing for a range of clients including local authorities, educational establishments, industrial sites and the retail and commercial sectors. Although the bulk of the work is carried out in Scotland, work for some customers also takes in group locations throughout the UK.
The PAT team carries out electrical inspection and testing of equipment at client premises, downloading test results from the tester into central PAT records systems.
Before selecting the new Seaward testers the company reviewed and trialled other testers but preferred the versatility and lightweight portability of the PrimeTest 350 model.
Marie McKay, Compliance Manager at Arthur McKay, said: "Our engineers have been very impressed with the portability, flexibility and added value features of the new tester - all of which makes the job of appliance testing a whole lot easier and much quicker.
"It is important for our business that we remain at the cutting edge of our industry. This means we are committed to utilising new technologies and finding new and better ways of doing things that can help us to deliver better levels of support to customers.
"In this way, investment in new PAT technology not only helps us to work smarter and more efficiently, but means we can continue to be competitive and offer the best service possible."
The PrimeTest 350 is the latest addition to Seaward's comprehensive range of portable appliance test instrumentation, software and accessories that are used to ensure the safety of electrical equipment used in the workplace.
Visit the PrimeTest 350 PAT Tester product page for information.