Metrawatt International GmbH has announced the purchase of the UK electrical safety testing specialist, the Seaward Group.
Seaward will now become part of the GMC Instrumentation Division, a group of separate specialist T&M manufacturing businesses based in Germany, Switzerland and the USA and with a global international sales network.
The Nuremburg-headquartered Metrawatt is a worldwide market leader in the development and manufacture of test products and systems used in the electrical, energy and related sectors.
The County Durham-based Seaward Group is a highly successful manufacturer of electronic test and measurement instruments used in the appliance testing, bio medical, renewable energy, electronics manufacturing and utility markets.
The directors of both businesses believe that there is a very good synergy between the two companies in terms of product ranges, geographical spread and main markets served.
Under the terms of the deal, the Seaward Group name and its brands will remain intact and manufacturing will continue at the company's operation in County Durham.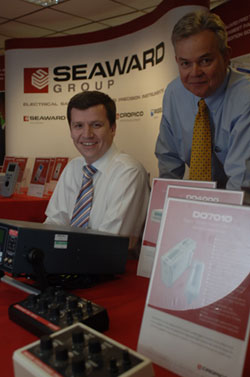 LtoR – Andrew Upton, managing director of Seaward, with Rod Taylor, company founder.
Rod Taylor, founder of Seaward, said: "This is a very positive development for both companies, bringing new opportunities in terms of enhanced technical capabilities and stronger global market presence.
"Seaward has been very successful as an independent T&M business, but developing a global presence is a significant challenge and being an important part of a larger multinational group brings the opportunity for the business to achieve this much more quickly and effectively.
"Our presence in the UK will remain as strong as it always has been. In fact, one of the attractions of linking up with GMC means that Seaward can make the most of the high global growth potential of its products without losing its brand identity or the core values that have contributed to the company's success."
Within its product portfolio, the Seaward Group manufactures instrumentation products under the Seaward, Clare, Cropico, Rigel and Seaward Solar brands.
Market leader in the UK portable appliance testing (PAT) sector, export has become an important and growing feature of the company's development in recent years, representing 50-60% of turnover. Seaward now supplies products to over 60 countries across the globe, recently breaking into Japan, China and a variety of South American countries.
Dr Hans-Peter Opitz, chairman of Metrawatt International, said: "We are delighted to have added Seaward to our portfolio of instrumentation companies.
"There are parts of the world and specific markets where Seaward products are already strong that have the potential for GMC growth, and, similarly, there are areas where GMC's presence can now provide a platform for expansion of Seaward's technology.
"The prospects for both Seaward and the enlarged GMC Instrumentation Division are therefore very bright and we look forward to a successful future together."
Metrawatt Inernational also owns GMC-I-ProSys in Skelmersdale, a manufacturer of current probes and voltage measurement instrumentation.
As part of the new arrangements Rod Taylor, founder of Seaward in 1982, has announced his retirement from the business. The new managing director of Seaward is Andrew Upton, who joined the company as sales director in 2006. Andrew was formerly Vice President of Seaward Group USA and returned to the UK earlier this year.