The Royal Netherlands Air Force is using a high performance Cropico ohmmeter as an integral part of a maintenance programme designed to identify and reduce the potential for airframe corrosion on front line fighter aircraft.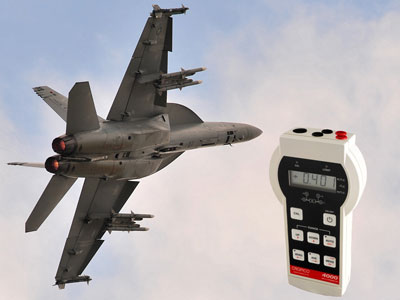 Air force technicians are using the Cropico DO4000 digital ohmmeter to measure the ground points on its fighter jets and Apache and Chinook.
These ground points are located at various key points around the airframe and the DO4000 enables technicians to quickly and easily check that the resistance levels between each one are lower than <2.5milliOhm.
Ground points are required to create a safe electrical network inside an aircraft - when it flies through dry air it gets statically charged, so when it lands this needs to be safely discharged through the ground.
After that, the ground personnel can maintain the aircraft safely. It is important that these ground points have specific standards because, for example, when refuelling the aircraft there could be spark-ignition due to residual charge. Also the ground points take care of the different currents running throughout the airframe during flight.
The DO4000 was supplied by Cropico's Netherlands test and measurement equipment distributors, Total Test & Measurement Support.
A spokesperson for the Royal Netherlands Air Force said: "The DO4000 is an excellent instrument, offering superb performance, reliability and accuracy.
"It's met the air force's need for an easy to use tester and has fulfilled all expectations, particularly impressing as it is being used within a demanding testing environment."
The DO4000 has also received its NATO stock number – 6625-17-923-9744.
The portable and rugged instrument includes a number of advanced features to ensure measurement accuracy including forward and reverse current measurement with auto averaging, true current zero, long scale length and a selectable measurement range from 40mΩ to 4kΩ with respective resolutions between 10µΩ and 1Ω.
Within the range, model 4001 also includes temperature compensation, with preset coefficients for copper and aluminium plus user settable coefficients for other materials. Temperature measurement over the range –50 to +800ºC is also available.
Protection up to 415V rms is provided at the measurement terminals and push button operation is achieved easily by clearly marked function controls. Direct reading measured values are displayed on a four-digit LCD display.
Over range and low battery indication is also provided and warning LEDs illuminate when an open circuit lead condition is detected.