A leading manufacturer of commercial and domestic lighting has improved electrical safety testing of its range of LED products using a low power multi-function HAL LED tester from Clare.
JCC Lighting Products Ltd, designs, sources and manufactures light fittings suitable for customers in domestic lighting, office lighting, industrial and retail lighting markets in the UK and growing international markets.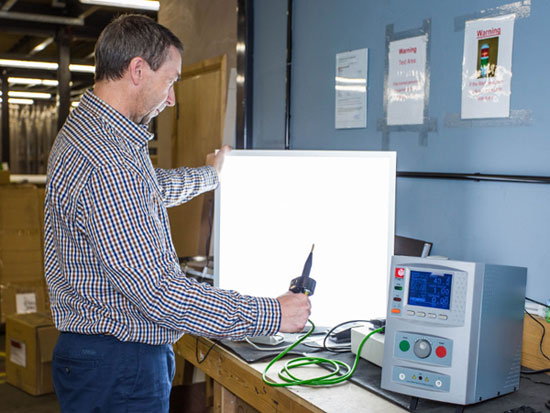 This includes a range of advanced LED downlights, LED panels, wall and ceiling lights, track and spotlight systems, and traditional wall lanterns.
The company's facility at Bognor Regis, Sussex has been using a HAL LED on its production line to batch test LED units manufactured or converted before they are distributed to UK electrical wholesalers and international customers
The HAL LED, which provides power measurement of less than 1000W with a resolution of 200mW, performs continuity and ground/earth bond tests alongside AC/DC Hipot (FLASH/Dielectric Strength) to ensure JCC's products guarantee product quality, performance and reliability and are safety compliant with EN 60598. This covers the safety of fixed lighting equipment such as recessed and surface luminaires.
Function testing is also undertaken as part of the programme to check that each unit switches on/off and lights correctly at the required power consumption levels and that any ancillary equipment works in accordance with technical specifications.
This ensures products are safe to use after leaving the factory gate and that a test record is produced for all manufactured units in the advent of any damage during distribution or to track and trace any product returns - in line with the company's quality assurance programme.
Michael Rickwood, technical manager at JCC, said: "The HAL LED is an impressive multi-function test platform, providing faster and more accurate testing at low power levels.
"It gives us the reassurance and peace-of-mind that every unit leaving the production line is 100% safe-to-use and functions as required."
He added that Clare's also a good supplier providing a responsive and professional service.
"The company is an excellent supplier whose high performance, added value solutions enable companies like ours to fully comply with demanding electrical safety testing. I've also been particularly impressed by the quality and efficiency of their aftersales support, which is very good."
The HAL LED delivers better resolution at low power to offer greater control of the output of products under test, ensuring improved accuracy and quality control standards during manufacturing.
Manufacturers such as JCC can complete end of line tests with the additional benefit of full functionality testing of the operation of the equipment, ensuring consistent quality control throughout the production process.
The HAL LED combines the performance of a multi-function production line safety tester with load and power factor measurement for product energy consumption and ratings assessments. The tester can be fully integrated into automated manufacturing systems with selectable sensors and enclosure interlocks, or by ultimate control using remote PCs and PLCs.
A large, clear full graphic display presents information either in a numerical or analogue format and a powerful internal memory allows the storage of up to 6,000 test results and up to 50 configurable test routines. The instrument can also be interfaced with a variety of accessories ranging from bar code scanners to pass/fail label printers.