This issue covers:
Electrical product recalls: AMDEA supports ESF campaign
Sentinel safety testers guard against non compliance
BEAMA and NAPIT scheme to identify counterfeit electrical products
Electronics 2020: Views on the future of the electronics industry
Does your company manufacture luminaires?
Q&A
Electrical product recalls: AMDEA supports ESF campaign
An online game highlighting some electrifying horrors is raising awareness of the dangers of recalled electrical equipment products, and the need for formal product registration.
The House of Horrors game, developed by the charity, Electrical Safety First (ESF), is set in a typically haunted house. It challenges players to find, against the clock, the killer lurking in the shadows.
Along with some typically spooky objects lying around – a pumpkin, a knife, an axe, a bottle of poison and a chainsaw – there are also innocuous-looking household objects. However, the three killers are all recalled electrical appliances and, at the end of the game, players are directed to Electrical Safety First's recall checker (for an up-to-date list of electrical recalls) and AMDEA's Register My Appliance site.
"In the UK, almost half of all domestic fires arise from electricity and the vast majority of those are caused by electrical products – and their misuse", notes Phil Buckle, Director General of Electrical Safety First.
"We hope this fun approach to a serious issue will raise awareness of the potential dangers of recalled products and the need to register them."
A major report by the Charity – Consumer Voices on Product Recall – found that concerns over personal information being used for marketing purposes inhibited consumers from registering their appliances. However, AMDEA's register will only use consumer information for safety notices and product recalls.
"While domestic appliances have never been safer, we have over 100 million large appliances in use in our homes – and they are in service for a decade or more", explains Douglas Herbison, AMDEA Chief Executive. "But if an item has to be recalled by a manufacturer, they need to be able to trace the affected models. We hope our website and Electrical Safety First's innovative digital campaign will help address this issue."

Sentinel safety testers guard against non compliance
The Sentinel series of bench-top hipot/flash testers delivers significant time and cost saving benefits for electronic product type testing applications.
The Sentinel 200, 500 and 501 electrical safety testers enable manufacturers to check their products in-house to ensure compliance with the relevant international technical conformance standards such as EN 60598, UL 1598, IEC and CSA C22.2 before being sent to third party test/approval houses. This can reduce time-to-market timescales -with associated cost savings.
The fast, safe and accurate testing of high voltages up to 5kV AC and 6kV DC is provided across the range while testing up to 500 VA AC power output - allowing for 100mA tripping currents, a requirement in many standards - is available on the Sentinel 500 and 501 units. The latter also provides earth bond/insulation resistance testing.
The Sentinel series offers fully automatic testing and remote control, enabling up to 100 test conditions to be saved and recalled for single test purposes. For sequential testing requirements, manual test settings can be linked together to create up to 100 automatic test sequences, enabling simple recall for repeat testing.
Full details of the Sentinel testers are available here

BEAMA and NAPIT scheme to identify counterfeit electrical products
Electrical trade association NAPIT has announced a new collaborative approach to address the impact of non-compliant, defective or counterfeit products on electrical installers.
NAPIT has created a new Defective, Suspicious or Counterfeit Products Reporting Form in cooperation with BEAMA, the trade association which represents manufacturers of electrical infrastructure products, and the Electrotechical Market Surveillance Group (EMS).
The new system will allow NAPIT members to draw attention to potentially dangerous electrical products and pass the information on to EMS member organisations, who conduct their own product testing using independent labs to build cases of miss-selling. The group will also work with Trading Standards and/or the Health & Safety Executive to get dangerous products removed from the marketplace.
The move comes in response to a NAPIT installer survey which showed that nearly 60% of electricians encounter non-compliant electrical products but don't report them and, of these, nearly half (45%) said that it was because they didn't know where to report them to.
One in four of those surveyed also said that the defective or counterfeit products caused a direct safety risk to customers
Commenting on the survey, NAPIT Group Technical Director and Trade Association Chairman Frank Bertie said: "When we heard the serious concerns from our members and saw those concerns directly reflected in the experiences of hundreds of installers through our electrical products survey, the need to tackle the problem became clear."
For more information and reporting guidance on defective, suspicious or counterfeit products, visit www.doesitcomply.co.uk
Electronics 2020: Views on the future of the electronics industry
Electronics industry news portal Circuits Assembly features an interesting article looking at the future of the sector and views on what main technology trends were likely to have an impact.
The website spoke with a number of electronics designers, fabricators, assemblers, and suppliers and asked for their vision of how the electronics design and manufacturing landscape will change.
Among the topics discussed were robots on SMT lines, DNA-based circuits, 3D printers, supply chain migration and more.
Input came from veterans of start-ups and blue chip OEMs, some who have spent a lifetime in electronics, and some who only recently joined the industry.
It is interesting to read the sheer range and often contradictory views expressed on the same issue. For example, in answer to the question 'Is the number of electronics manufacturers worldwide more likely to halve or double by 2020?' responses ranged from a forecast expansion as a result of the explosion in diversity of electronic products to an anticipated rationalisation of the industry caused by acquisition and consolidation.
Further details are included in the full article here
Does your company manufacture luminaires?
If so are you aware that it is recommended your products should be routinely tested at the end of production, in line with BS EN 60598-1
This product standard recommends that 100% of all manufactured items are subjected to an end of line electrical safety test to ensure the manufacturing process has not compromised the overall safety of the product.
Find out more about BS EN 60598-1 and how to test to this standard here

Q&A
Every month we'll be including a commonly asked application question. This month we will be looking at 4 Wire Measurement in Low Resistance Ohmmeters
Q: What is 4 terminal measurement?
A: 4 terminal measurement as the name implies uses 4 measuring leads instead of the normal 2. Two leads carry the measuring current and the other 2 leads measure the potential across the sample.
Q: Why do I need to use 4 terminal measurement?
A: When measuring a resistance below 10 ohms it is advisable to use the 4 terminal measurement technique, the lower the resistance measured the more need for 4 terminals. Typical test leads have a resistance of 0.02 ohms per meter, if only 2 measuring leads are used then the value measured will include the lead resistance of 2 x 0.02 = 0.04 ohms, but this is not the only additional resistance that will be measured, if banana plugs are used for the lead connections then the resistance of the connection to the measuring instrument and the connection to the sample being measured will also be significant.
This additional resistance will also be unstable a different value every time the connection made and may vary with time particularly as banana plugs can quickly become dirty. Corrosion and oxidation of the connectors also plays its part in making the connection resistance high and unstable. Using 4 terminal measurements eliminates these lead and connection resistance's and only the resistance of the sample being measured is included in the final value displayed.
Q: How does 4 terminal measurement eliminate Lead and connection errors?
A: With the four wire technique use 2 leads to pass the measuring current through the sample and the second pair to measure the volt drop across the sample, there is no current flowing through the potential leads and from ohms law
(Resistance=Volts/current) if there is volts but no current present in the leads there is no resistance.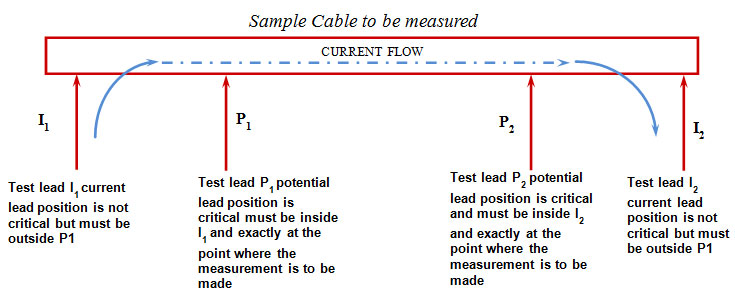 Do you use Clare or Cropico equipment? - If you think you may have a story for future e-news bulletins, please let us know by contacting us here.