This issue covers:
Semiconductor sales increase forecast
EEF makes case for Government support for manufacturing
Accurate low resistance measurement
India targets electronics boost
Q&A
Semiconductor sales increase forecast
An industry forecast predicts three good years for semiconductor manufacturing equipment.
The latest analysis from SEMI Semiconductor Industry Research forecasts that the equipment market will grow 7% in 2015 to reach $40.2 billion and expand another 4% in 2016 to reach $41.8 billion. Last year it grew 18%.
Key drivers for equipment spending are investments by memory and foundry fabs. Front-end wafer processing equipment is forecast to grow 10 percent in 2015 to $32.1 billion, up from $29.3 billion in 2014. Test equipment, assembly and packaging equipment are forecast to contract this year, falling to $3.5 billion (-3 percent) and $2.8 billion (-9 percent), respectively.
"Memory and foundry device manufacturers are continuing to invest in leading-edge process technologies to enable mobility and interconnectivity," said Denny McGuirk, president and CEO of SEMI. "We expect capital spending to post growth throughout the remainder of 2015 and into 2016."
Taiwan is forecast to continue as the world's largest spender with $10.9 billion estimated for 2015 and $10.0 billion for 2016. In 2015, South Korea is second at $8.6 billion, followed by North America at $6.5 billion. For 2016, these three regions are expected to maintain their relative rankings.
In 2015, year-over-year increases are expected to be largest for South Korea (25 percent), Taiwan (16 percent), Europe (14 percent), and Japan (13 percent). Projected year-over-year percentage increases for 2016 are largest for Europe (26 percent increase), China (19 percent), South Korea (8 percent), and Rest of World (7 percent). More at www.semi.org/en/MarketInfo

EEF makes case for Government support for manufacturing
A new report forecasts UK manufacturers are to increase their productivity by 15.5% over the next five years.
The report from International Festival for Business 2016 and Oxford Economics Says the productivity increase will help to increase the value of exports by 35%.
Trade body EEF welcomes the findings, saying they make a 'powerful case' for the Chancellor to help solve Britain's productivity crisis by targeting Government support towards encouraging growth in high value manufacturing.
Manufacturing is projected to deliver 40% of Britain's productivity gains over the next decade. In the past five years output per hour in manufacturing has grown four times faster, on average, than that across the whole economy.
In the years running up to the financial crisis UK manufacturers were increasing rates of productivity growth in line with the best in the world and, since 2007, the sector has remained ahead of most EU competitors, including Germany.
EEF is calling on the Government to work with business to improve productivity through policies based on three key principles: The levelling up of performance between the strongest and weakest performing businesses, a greater focus on the most productive sectors and reduction in barriers to growth and using proven areas of Government spending which spread good practice. Details at www.eef.org.uk/

Accurate low resistance measurement
A specialist digital ohmmeter improves the accuracy to which low resistance can be measured.
The versatile, rugged and easy-to-use Cropico D07 Plus simplifies resistance measurement associated with electrical connections, weld integrity, cable and joint resistance, electric motors and other engineering applications.
Accurate to within 0.05%, lead resistance errors are eliminated with the incorporation of true four-wire technology, while advanced features include seven selectable measurement ranges, extending from 0.1μΩ to 6 kΩ - in addition to a 10A measuring current.
The D07 Plus is capable of recording and storing 1,000 measurements plus sequences. There is an option for selecting continuous or pulsed current output.
A long scale count meter (up to 60,000) enables the automatic averaging of forward and reverse measurements, which can then be downloaded to a PC or printer if required via a full serial RS232 or USB outlet port.
A QWERTY keyboard and LCD graphics panel have been incorporated to allow for quick and easy access and control. Other features include temperature compensation, full cooling curve facilities with built-in graphical plotting, remote start facility and comprehensive digital calibration.
Remote power is provided by rechargeable batteries, which provide up to one hour's continuous use at the lowest ranges and 20 hours for all others. A mains cord is also supplied as standard together with test leads, user manual and instructional CD-ROM. Specialist test leads and calibration standards are also available from Cropico.
The D07 Plus comes sealed in an impact-resistant, lightweight (5kg) and easy-to-carry ABS case capable of withstanding the harshest field conditions. In addition to English, French, German, Spanish or Italian languages can be selected. It forms part of a comprehensive range of precision measurement instruments available from Cropico, part of the Seaward Group. find out more about the Cropico DO7 Plus at www.seaward.co.uk/do7plus
India targets electronics boost
In an effort to boost the manufacturing of electronics items, the government of India extended the 'Modified Special Incentive Package Scheme' (MSIPS) by five years and also expanded the scope of the programme to cover 15 new product categories.
According to the government, the demand for electronics in India is expected to reach $400 billion by 2020 and has the potential to attract $100 billion investment and provide jobs to 28 million people.
The 15 new product categories included in the MSIPS are: smart cards, consumer appliances, electronic product design, optical fibres and Internet of Things (IoT) products, among others.
The MSIPS scheme was originally approved by the government in July 2012. It provides capital subsidy of 20 per cent in SEZ or 25 per cent in non-SEZ units engaged in manufacturing of electronics items. The original scheme was for three years.
Full story at www.business-standard.com.
Q&A
Every month we'll be including a commonly asked application question. This month we will be looking at 4 Wire Measurement in Low Resistance Ohmmeters
Q: What is 4 terminal measurement?
A: 4 terminal measurement as the name implies uses 4 measuring leads instead of the normal 2. Two leads carry the measuring current and the other 2 leads measure the potential across the sample.
Q: Why do I need to use 4 terminal measurement?
A: When measuring a resistance below 10 ohms it is advisable to use the 4 terminal measurement technique, the lower the resistance measured the more need for 4 terminals. Typical test leads have a resistance of 0.02 ohms per meter, if only 2 measuring leads are used then the value measured will include the lead resistance of 2 x 0.02 = 0.04 ohms, but this is not the only additional resistance that will be measured, if banana plugs are used for the lead connections then the resistance of the connection to the measuring instrument and the connection to the sample being measured will also be significant.
This additional resistance will also be unstable a different value every time the connection made and may vary with time particularly as banana plugs can quickly become dirty. Corrosion and oxidation of the connectors also plays its part in making the connection resistance high and unstable. Using 4 terminal measurements eliminates these lead and connection resistance's and only the resistance of the sample being measured is included in the final value displayed.
Q: How does 4 terminal measurement eliminate Lead and connection errors?
A: With the four wire technique use 2 leads to pass the measuring current through the sample and the second pair to measure the volt drop across the sample, there is no current flowing through the potential leads and from ohms law
(Resistance=Volts/current) if there is volts but no current present in the leads there is no resistance.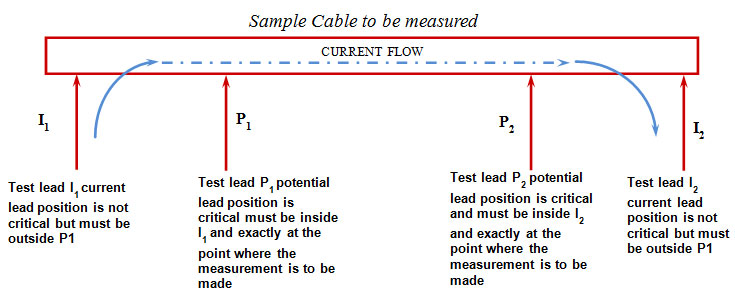 Do you use Clare or Cropico equipment? - If you think you may have a story for future e-news bulletins, please let us know by contacting us here.