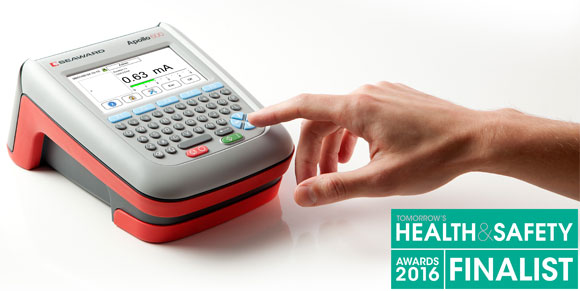 Seaward's most advanced portable appliance tester has been shortlisted in an important awards scheme that is designed to highlight those innovative products that are making a real difference in the health and safety sector.
Online news channel Tomorrow's Health and Safety has included the Apollo 600 PAT from Seaward in the nominees for its 2016 awards that encourage those working in the sector to vote for their favourite new product introductions.
The Apollo 600 is a multi-purpose PAT that incorporates all of the electrical safety tests required by the IET Code of Practice alongside a range of special features. These include an on-board risk assessment tool to help determine re-test intervals and a built-in digital camera to enable high quality images to be tagged against appliance test records.
For those with a broader responsibility for workplace health and safety inspections, the Apollo 600's universal risk assessment tool enables other work place hazards to be inspected and recorded. These include, for example, fire detection, alarm systems and emergency lighting, with the ability to output a wide range of safety labels, test reports and certificates for each.
Online voting on the Tomorrow's Health and Safety website to choose the award winners is open until Friday 18th March. Selections can be made by visiting the special awards poll and registering your support for your favourite entry via the voting link – which we hope will be the Seaward Apollo 600 tester.